" ฟิตเนส เฟิรส์ท" ผู้นำอันดับหนึ่งธุรกิจฟิตเนสคลับระดับโลก ต่อยอดภารกิจภายใต้ปรัชญา "Together, We Can Go Further" สร้างแรงบันดาลใจให้ทุกคนมีสุขภาพดีขึ้นด้วยการออกกำลังกายพร้อมเดินหน้าเติมเต็มฟิตเนสไลฟสไตล์ด้วยฟิตเนสเทคโนโลยีหรือ FitTech บนดิจิทัลแพลตฟอร์มเต็มรูปแบบผ่านแอพพลิเคชั่นสุดล้ำ" CustomFit "
CustomFit by Fitness First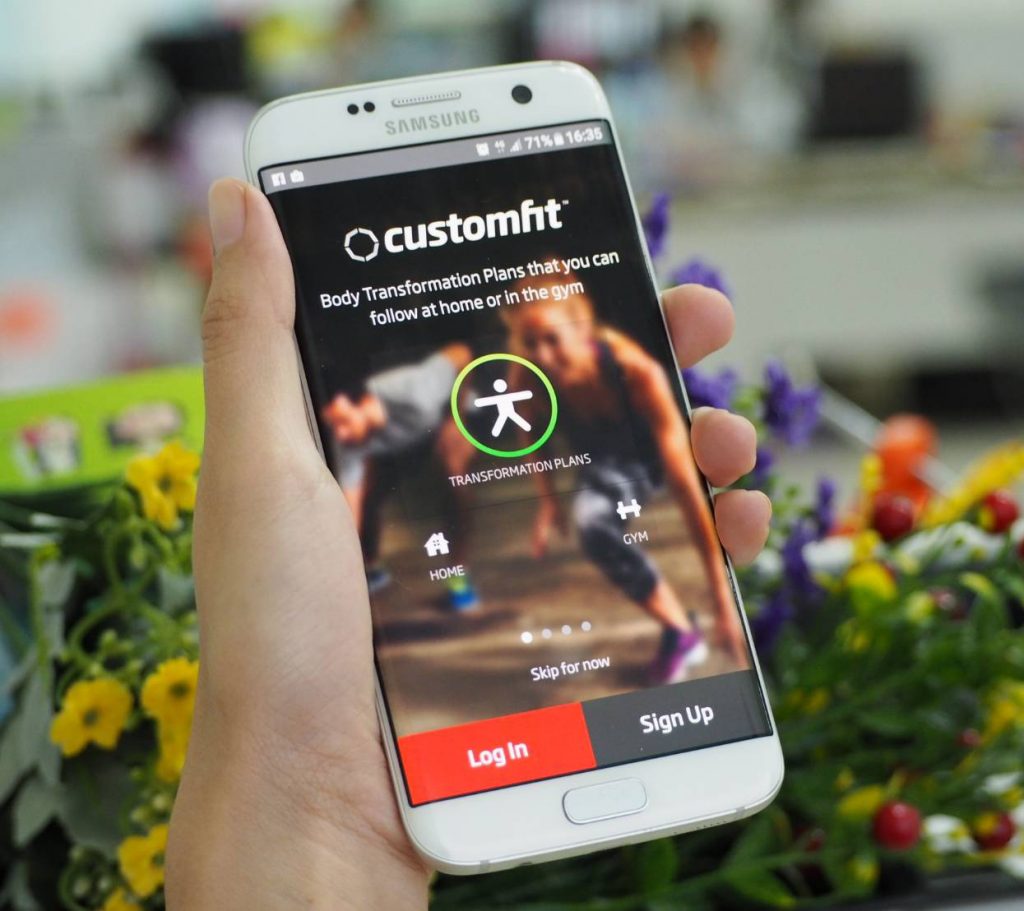 ล้ำหน้าไปอีกขั้นด้วยฟีเจอร์ใหม่ล่าสุดกับโปรแกรมในแอพฯ Body Transformation Plan ที่ได้ 2 กูรูคนดังระดับโลกทางด้านการออกกำลังกายและโภชนาการมาร่วมสร้างสรรค์โปรแกรมสุดพิเศษ ที่จะเปลี่ยนคุณเป็นคนใหม่กับรูปร่างใหม่ใน 12 สัปดาห์ ซึ่งโปรแกรม Body Transformation Plan นี้ได้ถูกออกแบบขึ้นเป็นพิเศษ โดย 2 กูรูผู้เชี่ยวชาญ คือ แชลลี่ เบียร์ ผู้เชี่ยวชาญด้านการออกกำลังกาย และ บาร์บาร่า คอกซ์ ผู้เชี่ยวชาญด้านโภชนาการ ที่ได้วางโปรแกรมที่จะปรับเปลี่ยนรูปร่างภายใน 12 สัปดาห์

พร้อมด้วยโปรแกรมอัจฉริยะที่จะคำนวนเป้าหมายที่เป็นจริงได้ และผู้ใช้สามารถเลือกรูปแบบการออกกำลังกายหรือสูตรโภชนาการที่เหมาะสมของแต่ละบุคคลได้อีกด้วย โดยโปรแกรมดังกล่าวเป็นโปรแกรมพิเศษที่จะต้องซื้อเพิ่มในแอพพลิเคชั่น โดยเปิดให้ดาวน์โหลดในราคาพิเศษเพียง 249 บาทเท่านั้น สนใจสามารถ เข้าไปดาวน์ดหลดได้ที่นี่  >> Download <<
Custom Fit gives you unlimited free workouts. It's built for everyone who wants to be inspired and supported in the gym and beyond.
Designed by experts and available for all fitness enthusiasts, the award-winning Custom Fit app generates workouts tailored to your preferences and skill level. Train the way you want with personalised workouts you can do anytime, anywhere. You don't have to be a Fitness First member to use it, but members can access extras like fitness class timetables, Club Connect and the upcoming challenge leaderboard.
This app will help you take your training to the next level
CREATE YOUR WORKOUTS
Custom Fit generates workouts based on the options you select, so you can tailor each exercise to suit your needs. Choose the type, equipment, skill level and the length of workout you want. With over 800 exercises, Custom Fit provides inspiration every time you train.
PERFORM MODE
You'll be guided through each workout with step-by-step instructions and videos for each individual exercise, so you always know what you're doing.
ACTIVE CALORIE TRACKING
Custom Fit also integrates with Google Fit to track your step activity. Your steps are used to calculate your overall active calorie burn, along with your training calorie burn, so you get a simple, integrated view of your activity level. Use this to see how this affects your body weight over time.
SKILL LEVEL
Custom Fit has the unique ability to dynamically calculate the Skill level of each workout, so you can start with simple exercises and progress when you're ready. You won't feel overwhelmed by workouts with complicated moves, because you take it at your own pace.
INTENSITY
Intensity level lets you see how hard a workout will be, allowing you to make an informed choice about the kind of training you want to do. The higher the intensity, the more calories you'll burn, but you can start gently and ramp it up when you're ready.
BUILD YOUR OWN WORKOUTS
If you know what you're doing, you can create your own workouts from the library of over 800 exercises. Manage your sets and reps, and track the weights you lift so you can easily monitor your progress over time.
ADVANCED METRICS
Custom Fit has a huge range of metrics, which you can personalise so that you track your progress the way you want. Whether you choose to monitor your bench press 1 rep max, or time how quickly you can complete 30 push-ups, everything can be set up as a metric on your "Me" page for instant access.
PLAN YOUR WEEK
Save workouts to the planner which then syncs with your phone calendar. Custom Fit will remind you about your workout the night before so you never forget your kit.
CLUB CONNECT
Fitness First members have the added benefit of a direct link between the app and the trainers in their club, allowing bespoke workouts to be created in-club and automatically published to your personal profile on the app.
CHALLENGE LEADERBOARDS
Compete against others in the leaderboards, where you can post your best results and see where you stand against everyone else.
BODY TRANSFORMATION PLANS
Are you ready to transform yourself? The award winning Custom Fit app now offers Body Transformation Plans to help you feel and look fantastic. Our experts in nutrition and fitness will guide you to achieve your goals, giving you the focus and motivation to get the result you've always wanted. Designed with flexibility to complete at home or in the gym, and you choose when to train. Purchase a plan simply through the app with a one off payment, no subscription required.